03 Mar

Menardo R. Jimenez, Sr. & Carmen Jimenez-Ong: Building confidence together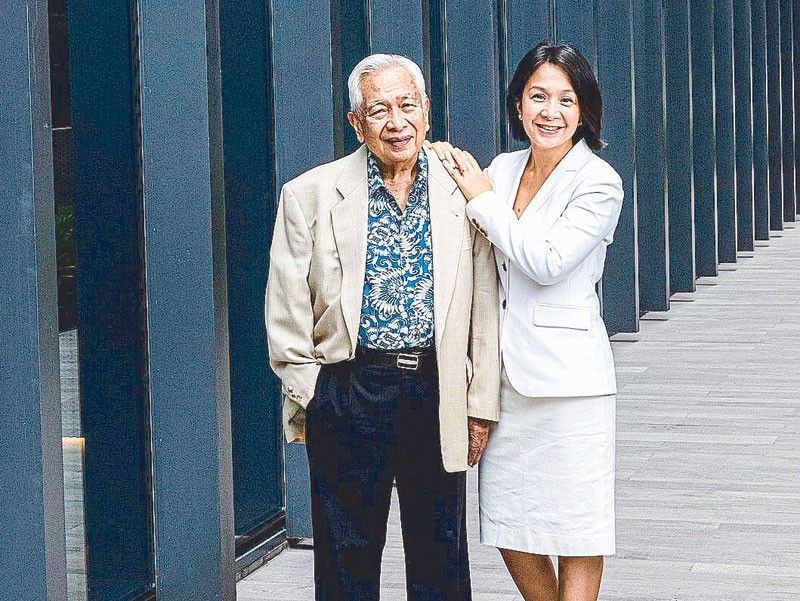 From a distance, the 32-story Menarco Tower on 32nd St. in BGC looks like any other modern-day office tower: streamlined yet imposing, nondescript but teeming with quiet dignity. Upon closer scrutiny, however, the structure stands tall above the rest for having redefined how buildings in the country should be constructed. Apart from earning a Leadership in Energy and Environmental Design (LEED) Gold status, Menarco Tower also attained a WELL Certified Gold status, making it the first building of its kind in the country to earn back-to-back honors from two of the most prestigious and exacting award-giving bodies in the US.
Thanks to the father-and-daughter team of Menardo Jimenez and Carmen Jimenez-Ong, the building's tenants and their managers and employees have a clean, secure and environment-friendly place of work designed not only to keep them healthy and happy, but also sharp and productive.
Menarco Tower is reportedly the "healthiest" and one of the most environment-friendly buildings in the country today. And it's no empty boast, as people behind it sourced the best materials and incorporated innovative features to achieve their vision: double-glazed unitized curtain walls that invite natural light in minus the heat, wellness center, vertical museum, modern and inviting food hall, and air conditioners that provide occupants fresh, pre-filtered air, among other lifestyle and health-affirming features.
Prior to accepting her father's challenge to lead in Menarco's construction, this Ateneo Management graduate's lone background in construction was overseeing the building of her parents' house in Makati and the renovation of her father's office in BGC. This didn't seem to daunt her.
Beneath that soft, smiling exterior is a tough lady. Still, Carmen can't remember anymore how many times she cried on her parents' shoulders while seeking their advice when the situation, including certain individuals, became too difficult to handle during the initial phases of construction. In short, what Carmen had been through was enough to make even some of the toughest individuals keel over and throw in the towel. She didn't!
"Back then, always," she says emphatically on how close she was to quitting. "Oh my gosh, it was the hardest thing to do. There have been several times I said to myself, I don't want to do this anymore."
But she persisted. Carmen, steeped in her Christian faith, remained humble and willing to listen, and determined to learn by reading up, watching documentaries and consulting with various experts on construction. Most importantly, though, Carmen had her father's full trust.
In an interview with Alex Vergara of PeopleAsia, the elder Jimenez, media industry veteran and former president of GMA Network Inc., as well as chairman of Menarco Development Corp., said, "As far as I'm concerned, I trust all my four children. Now, if they're given a responsibility and they accept it, they have to do it themselves. My position has always been consistent: paddle your own canoe. Do what you think is right. We're always here to help once we know you need it, but don't depend on us."
Spaces with soul
The building is nearly leased out, with more than 60 percent of tenants having moved in. Once it's fully occupied, Menarco Tower is projected to house over 2,000 people.
"When employees do their best work, the companies that hold offices here will flourish. And when they flourish, our entire country flourishes," says Carmen, founder and CEO of Menarco Development Corp.
Menarco may be a new player in the already crowded and highly competitive real estate industry, but its battle cry since Day 1, has been: "To be a new breed of developer that creates humanity-centered spaces wherein the spaces have a soul in them."
While still important, profit ranks only third to people and the planet in Menarco's book. But the mother of four is the first to admit that she wouldn't have been able accomplish such a feat without the trust, encouragement and more than four-decades worth of priceless life lessons from her parents Carolina and Menardo.
To his daughter's credit, not once did Menardo Jimenez see the need to interfere in any major way while work on the building was in progress.
"That was why I had a hard time. He didn't help me directly," Carmen can now say with a laugh.
"Being part of the Jimenez family is like going to business school at a young age," she continues, in reference to her intense, seemingly tireless and business-minded father. "This building wasn't just built with smiles and meetings. I also did my homework by poring over books and watching documentaries. Even while at home, I didn't stop learning."
Carmen, admittedly, can also be quite intense herself like her dad when she puts her mind to something. But being also her mother's daughter, she tries to temper her personality with her mom's more laid-back, even-keeled nature.
Not only is Menardo very happy with the results of Carmen's hard work, he considers Menarco Tower a source of honor as well as a blessing from God. In fact, what could be a better gauge of his approval than his recent decision to move his office to Menarco Tower?
"If I weren't happy, I wouldn't be here," Menardo, who, at 87, still goes to work every day, told PeopleAsia. "And what would be my proudest moment as Carmen's father? Well, we're in it right now. Since she did such a good job, there's already a follow-up project lined up for her to do."
Now, that's confidence as towering as a 32-story building!
This article is written by Joanne Rae Ramirez of PeopleAsia as released by The Philippine Star.